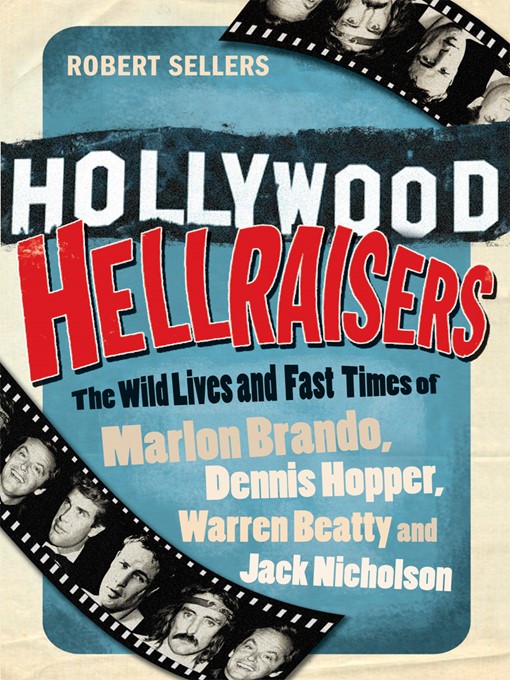 We live in an age where celebrity dirt is a hot commodity. We want to know who has a drug problem, who's dating who, who's going broke. In
Hollywood Hellraisers
, Robert Sellers dishes the dirt on "old Hollywood" -- actors Marlon Brando, Dennis Hopper, Warren Beatty and Jack Nicholson. And readers better get out their shovels -- there's a lot of dirt to dish out on these four.
The book, written before Hopper's recent death from prostate cancer, covers both the professional and personal lives of these iconic actors; there are numerous stories from the sets of such American classics as
Easy Rider
,
The Godfather
and
Apocalypse

Now
.
But even before they became stars, Sellers digs into their early years and reveals all of these men had parent figures who were heavy drinkers; Hopper even believed his dad to be dead for years before finding out that he really had a job in top-secret intelligence work. For decades, Nicholson believed the woman who was actually his grandmother was his mother; in reality, his older sister was his birth mother. He didn't find out until a reporter uncovered this information when Nicholson was almost 40 and both women were dead. Brando had an abusive father and a mother who was such a drunk, he'd end up wandering the streets looking for her many nights.
Needless to say, their upbringings helped them become talented artists, but it also created many personal problems for them. Hopper became a major alcoholic and drug addict -- before getting sober later in life, he reportedly was consuming a half gallon of rum, 28 beers and three grams of cocaine
daily
. Brando fathered many children with different mothers, and later experience tragedy when one of his daughters committed suicide and a son was jailed for manslaughter. Beatty is known for being one of the biggest womanizers of all time; a new biography estimates he's slept with almost 13,000 women (although Beatty denies it). Nicholson was also a womanizer in his own right. The women between all four men sometimes overlapped; Michelle Phillips of The Mamas & The Papas had been Hopper's wife (very briefly) and a girlfriend of Nicholson and Beatty.
But underneath all the scandals, there are also interesting tidbits in here that really give you the picture of how these men felt about their fame and Hollywood careers. For example, Brando claimed to have never really enjoyed acting; when he got older, he had an assistant feed him his lines through a device in his ear.
Hollywood Hellraisers
is a fun, scandalous and insightful read about four of Hollywood's all-time best actors.
Hollywood Hellraisers
is available from Skyhorse Publishing.
Disclaimer: I received a complimentary advanced review copy of this book from the publisher.